What Is SKF Bearings?How Is It Used?
Are you interested to know why SKF bearings is the top bearing manufacturer in the world?
SKF bearings produce high-quality products for various applications. In this article, we'll give you detailed information regarding the different types of SKF bearings and their uses.
SKF offers a variety of bearing types, including ball bearings and roller bearings.
These bearings are used in many different sectors, including machinery and agriculture.
The most popular SKF bearing is the deep groove ball bearing which has a high-quality performance.
Do you desire more information about SKF bearings? Read the entire description below.
1. What are SKF bearings and what do they do
The largest bearing producer in the world is SKF.
The historical advancement of bearing design is a result of ground-breaking discoveries and improvements made to increase their effectiveness and durability as well as to expand the range of their applications to numerous machine industry sectors.
2. The different types of SKF bearings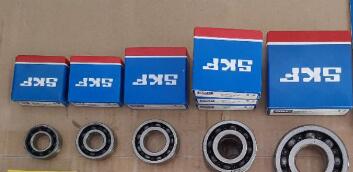 Deep groove ball bearings
The most popular and adaptable form of bearings is deep groove ball bearings.
High rotating speeds are made possible by their low friction, low noise, and low vibration design.
They are easier to mount, can handle axial and radial stresses in both directions, and need less maintenance than other bearing types.
Deep groove ball bearings come in a wide variety of types, variations, and sizes, according to the SKF bearing catalog.
The SKF Explorer deep groove ball bearings go above and beyond what is offered in our catalog, providing advantages for applications with particular performance requirements.
Angular contact ball bearings
Inner and outer ring raceways of angular contact ball bearings are separated from one another in the bearing axis direction.
This indicates that these bearings are made to support combined loads, i.e., radial and axial loads that act simultaneously.
As the contact angle rises, angular contact ball bearings' ability to support axial loads increases.
The line connecting the places where the ball and raceways make contact in the radial plane, along which the combined load is transferred from one raceway to the next, and a line perpendicular to the bearing axis is known as the contact angle.
Self-aligning ball bearings
Two rows of balls, an outer ring with a common sphered raceway, and an inner ring with two deep uninterrupted raceway grooves are all features of self-aligning ball bearings.
The shaft's angular misalignment concerning the housing, which can be brought on by, for instance, shaft deflection, does not affect the bearings.
Thrust ball bearings
Axial loads can be supported by thrust ball bearings in a single direction. They can't have any radial loads applied to them.
Their detachable parts make installing, demounting, and maintenance checks easier.
There are several interchangeable parts. A ground bore on the shaft washers allows for an interference fit.
Mounting, demounting, and maintenance inspections are made easier by the separate design.
Components that can be swapped out
The shaft washers' ground bore allows for an interference fit.
Cylindrical roller bearings
There are many different designs, series, variations, and sizes of SKF cylindrical roller bearings.
The number of roller rows, inner/outer ring flanges, cage designs, and materials make up the majority of the design variations.
The bearings are capable of handling applications with high speeds and strong radial loads.
They provide high rigidity, low friction, and lengthy service life while accommodating axial movement (except for bearings that have flanges on both the inner and outer rings).
Additionally, divided or sealed types of cylindrical roller bearings are readily accessible.
Rollers in sealed bearings are shielded from pollutants, water, and dust while retaining lubricant and excluding impurities. Longer service life and lower friction are benefits of this.
Split bearings are designed to make maintenance and replacement easier for bearing arrangements that are challenging to access, like crankshafts.
It has seven product types:
- Single-row cylindrical roller bearings
- High-capacity cylindrical roller bearings
- Double-row cylindrical roller bearings
- Four-row cylindrical roller bearings
- Single row full complement cylindrical roller bearings
- Double row full complement cylindrical roller bearings
- SKF Cooper split cylindrical roller bearings
Tapered roller bearings
SKF tapered roller bearings come in a variety of types and can be customized to meet your unique speed, load, contamination, temperature, or vibration requirements.
A cup and cone assembly is a feature of SKF tapered roller bearings.
The outer ring makes up the cup, and the inner ring, rollers, and cage make up the cone assembly.
In addition to supporting combined loads, this bearing structure operates with less friction.
A stiff bearing application can be produced by adjusting one single-row tapered roller bearing in opposition to a second tapered roller bearing and adding a preload.
Additionally, Explorer class SKF tapered roller bearings are available.
Our knowledge of bearing design, tribology, metallurgy, lubrication, and production is combined in SKF Explorer.
In applications where it is necessary to improve performance, lower friction, or boost power density, SKF Explorer tapered roller bearings are frequently employed as bearing solutions.
It has five product types:
- Single-row tapered roller bearings
- Matched tapered roller bearings
- Double-row tapered roller bearings
- Four-row tapered roller bearings
- SFK Cooper split tapered roller bearings
Spherical roller bearings
dealing with extremely heavy radial and axial loads in situations where shaft deflection or misalignment could occur?
The great load-carrying capacity and flexibility to absorb misalignment of SKF spherical roller bearings will help you achieve minimal maintenance costs and a long bearing service life.
The open and sealed bearing types were created by SKF in 1919, and now, our selection is the broadest in the market. Our selection includes spherical roller bearings made for a variety of uses,
such as the main shafts of wind turbines, continuous casters, vibratory applications, and high-speed applications, as well as solid oil bearings, split bearings, SKF ConCentra roller bearing units, and our SKF three-barrier solution for the most demanding operating conditions.
3. Where to buy SKF bearings
You can buy and find a distributor near your location on their official site.
Go to the product page by using filters to search for the product name or a product category, then check the delivery pin code to see if the product is available there.
If so, pick the desired quantity. After that, carry on and use the same shipping address with the same pin code as the delivery method. Please pay and place your order as usual.
4. How to install an SKF bearing
Here's how to install an SKF bearing:
Step 1: Location wise
Bearings should be installed away from metalworking or other machines that produce swarf and dust in a dry, dust-free area.
Large bearings frequently require mounting in an exposed location, thus precautions must be taken to keep moisture, dust, and other contaminants from contaminating the bearing and mounting position until installation is complete.
Wax paper or foil can be used to cover or wrap bearings, machine components, etc.
Step 2: Prepare
All required components, tools, equipment, and data must be available before mounting.
It is also advised to carefully read any drawings or instructions to ascertain the proper sequence of attaching the various parts.
It is important to examine the cleanliness of the housings, shafts, seals, and other parts of the bearing arrangement, especially any threaded holes, leads, or grooves where dust from earlier machining processes may have amassed.
Core sand must be eliminated from the unmachined surfaces of cast housings, and burrs must be smoothed out.
Step 3: Mounting
If using a vice, hold the shaft securely in place and keep it away from the jaws of the vise.
Protectors might be made of paper, cardboard, soft metal, or wood. All of the bearing arrangement's components' dimensions and form accuracy need to be examined. Avoid using a shaft if it cannot accommodate a bearing properly due to wear.
The connected components must be accurate enough and must comply with the recommended tolerances for the bearings to function successfully.
Typically, a stirrup or internal gauge is used to measure the diameter of the cylindrical shaft and housing seatings in two cross-sections and four directions.
One of the crucial phases of the bearing's lifecycle is mounting.
A bearing's service life will suffer if it is not fitted correctly using the necessary techniques and tools.
For accurate and effective bearing attachment, specific applications may require mechanical, thermal, or hydraulic mounting techniques.
The mounting and dismounting of SKF rolling bearings web application offers detailed instructions for the best techniques and equipment to mount and dismount the majority of SKF rolling bearings in a secure and time-saving manner.
Step 4: Measuring
The measuring tools and the objects being measured must be roughly the same temperature while taking a measurement.
This indicates that the components and measuring tools must be left in the same location for a sufficient amount of time for them to reach the same temperature.
This is crucial when it comes to large bearings and the correspondingly large and heavy components they are connected to.
Step 4: Handling
Large bearings with threaded holes in the ringside face to accept eye bolts can be provided upon request to make lifting easier.
The ring thickness sets a limit on the hole size. Thus, only lifting by the bolts of the bearing or a specific ring is permitted.
Additionally, be certain that the eye bolts are solely loaded in the direction of the shank axis.
An appropriate adjustable attachment is needed if the weight is to be applied at an angle.
It is desirable to offer a three-point suspension for the housing and adjustable length for one sling when putting a large housing over a bearing that is already in place on a shaft.
This makes it possible to perfectly align the housing bore with the bearing.
5. Maintenance tips for SKF bearings
Here are some maintenance tips for your SKF bearings to have a long life performance:
Apply lubricant
To prevent metal-to-metal contact between the rolling elements, raceways, and cages, rolling bearings must be thoroughly greased.
The main job of the lubricant is to separate the surfaces in the bearing; it also needs to prevent wear and shield the surfaces from corrosion.
In some situations, the lubricant also serves as a heat conductor.
Proper maintenance as well as the selection of an appropriate lubricant and lubrication method for each specific bearing application are crucial.
Apply oil
When oil is circulated, working circumstances that are typically harsh, such as high ambient temperatures and continuously increasing power inputs and speeds, are made easier to maintain, especially on large machines.
Circulating oil also extends the life of the oil.
A pump is used to circulate oil to the bearing. Before returning to the bearing, the oil is filtered and, if necessary, cooled in the reservoir after flowing through the bearing and draining from the housing.
Replenish and Renew
If the time between relubrications is less than six months, replenishment is a practical and desirable process. In comparison to continuous relubrication, it enables uninterrupted operation and offers a lower steady-state temperature.
When the time between relubrications is longer than six months, it is generally advised to replace the grease fill. This process is frequently used in railway applications, for example, as part of a bearing maintenance schedule.
6. The Application of SKF bearings
Some characteristics of SKF spherical plain bearings and rod ends include a long service life, great dependability, and low maintenance requirements.
The broad selection of spherical plain bearings and rod ends offered by SKF is adaptable enough to be employed in numerous applications spanning nearly every industry sector, such as:
7. Frequently asked questions about SKF bearings
Which SKF bearings logo as a Distributor should I use?
SKF uses the SKF logos. the blue corporate logo on SKF-produced materials and the red, blue, and white product logo on product packaging.
Comparing SKF bearings to comparable bearings from other manufacturers, it has been demonstrated that the former's service life is increased.
A longer service life translates to a lower likelihood of machine failure, less downtime, and increased production.
What do SKF bearings stand for?
SKF bearings stand for Swedish Ball Bearing Factory.
The increased bearing service life and decreased machine downtime that SKF can provide to end users can result in lower overall life-cycle costs and a smaller environmental impact.
Along with enhanced overall asset reliability, a stock of replacement bearings is kept up.