KOYO Bearing - What Is It? How Is It Used? Types Of KOYO bearings
Do you know where KOYO Bearing started? Zenichiro Ikeda founded the private corporation Koyo Seiko in Osaka, Japan.
They began by selling imported bearings, but by 1935 they had started manufacturing bearings carrying the Koyo brand under the company Koyo Seiko Co., Ltd.
KOYO bearings are made and produced by the company Koyo Seiko which has various bearing manufacturing facilities all around the world.
Their bearings can simultaneously receive radial and axial load. Suitable for applications requiring high accuracy and high rotational speed.
Do you want to know more about KOYO bearings? Continue reading.
1. What is a KOYO bearing and what are its uses?
One of the most well-known brands of bearings is Koyo, which produces goods that are intended for almost any application where needle bearings are used.
They manufacture bearings with a global reach under the JTEKT North America brand.
For heavy industrial applications where performance and strength are essential, KOYO bearings are the best choice.
These goods use cutting-edge material technology and are highly engineered. All of KOYO's products demonstrate their commitment to staying on the cutting edge of bearing technology.
KOYO performance is a daily requirement for sectors including mass transit, heavy machinery, electrical, and MROs all over the world.
Customers in these and numerous more industries depend on top-notch goods and knowledgeable support.
2. How is a KOYO bearing made?
KOYO bearings are made as it is constructed out of special steel, such as stainless steel or high carbon steel that contains chromium.
In addition, the cage might be built of metallic, resin, or composite materials depending on the conventional bearings intended operating environment.
These unique KOYO-branded bearings are lubricated at JTEKT either with fluorinated grease or a Clean Pro coating. These bearings had good performance in conditions of high RPM and high-temperature thanks to the use of heat-resistant materials for the inner, and outer rings, and cages.
JTEKT created Koyo bearings with martensitic stainless steel outer/inner rings and balls specifically for vacuum environments.
Precipitation hardening steel is utilized for bearings that need to be corrosion-resistant. Special materials are used to create bearings that must function effectively in corrosive environments.
3. The different types of KOYO bearings.
The various KOYO bearing types are listed below:
1.Deep Groove Ball Bearings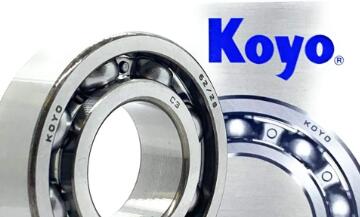 The deep groove ball bearing units consists of wide dimensional range and its ability to withstand simultaneous radial load and bidirectional axial pressures, making it the most popular type of rolling bearing.
2.Angular contact ball bearings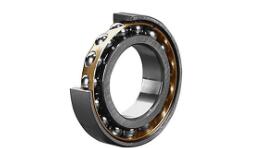 The angular contact ball bearing is appropriate for applications requiring high accuracy and high rotating speed and is able to sustain combined radial and axial loads because of the contact angles of the rolling elements.
3.Special Environmental Ball Bearings in EXSEV series
These specifications are met by JTEKT's Extreme Special Environment (EXSEV) range of special environments.
Although stainless is the preferred bearing material, we have a wide selection of double row
bearings to match any particular application.
4.Thrust Ball Bearings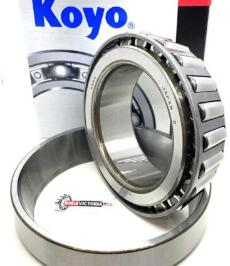 The thrust ball bearing is available in single-direction and double-direction varieties; the former can sustain axial loads applied in only one direction, while the latter can do so.
When the inner ring, balls, and cage are somewhat inclined with regard to the outer ring, rotation is still maintained since the center of curvature of the spherical or crowned roller bearings feature of outer ring raceway coincides with the bearing center.
As a result, its self aligning capability are appropriate for applications including axis deflection, housing center misalignment, etc. The attachment of a taper roller bearing on the axis is made easier by the use of an adaptor.
5.The spherical roller bearing
The spherical roller bearing is appropriate for low- to medium-speed applications involving large loads and impacts because of its high load rating and self-aligning properties.
Convex barrel-shaped rollers are positioned diagonally in this bearing.
Spherical roller bearing is self-aligning and can tolerate a little amount of angle tilt since the raceway of its housing raceway washer is spherical.
6.The apex of the tapered rollers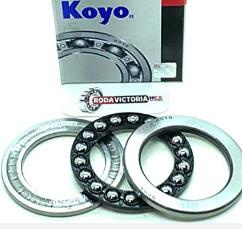 The apex of the tapered rollers face on the raceway face of the cone cup coincides with a single point on the bearing center line thanks to the design of this bearing. Suitable for severe load and impact load applications.
7.cylindrical roller bearing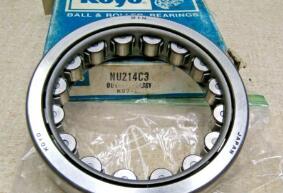 Because cylindrical roller bearing have line contact between the truncated conical rollers and raceway and a high radial load capability, they excel at withstanding heavy loads and impact loads.
The inner ring and outer ring may be separated, making installation and unmounting simple.
Due to their low cross-sectional height, needle roller bearing helps to keep the machine's total weight and size low.
As a result, they are utilized in a variety of applications, including those involving automobiles, motorbikes, electric machinery, machine tools, aeronautical equipment, office equipment, and other industrial gear.
4. Tips on how to select the right type of KOYO bearing for your needs.
Here are some suggestions for choosing the best kind of KOYO bearing for your requirements:
1.Be aware of the types of bearings and the order of importance for choosing them.
Bearings come in a wide variety of styles and sizes, from a few millimeters to more than 10 meters. When selecting the ideal bearing for your machine from among these numerous bearing types, the next two considerations are essential.
The bearing must be acceptable for the environment in which the machine will be utilized as well as the operating circumstances.
Replacement bearings should be easy to locate, and maintenance and inspection of the machine should be simplified.
The machine's damage can be reduced, the time needed to replace the bearings during repairs can be cut down, and the equipment may be used for longer if these conditions are met.
Thus, selecting the proper bearing will lead to a machine design that is more economical.

 

 
2.Try to check the bearing selection checklist in order
c. Bearing dimensions and service life
d. Bearing limiting speed, running accuracy, fits, and internal clearance
e. Stiffness and preload on a bearing
g. Components around the bearing
h. Bearing mounting and dismounting
3. Decide on the dimensions
Most people choose the shaft's dimensions to meet the machine's strength requirements first when constructing a machine and then choose the bearing based on diverging double row bearings feature and bore diameter.
Use thrust bearings if the load is primarily axial* (moving in the same direction as the shaft mounting) and a radial bearing if the load is primarily radial (moving perpendicular to the shaft diameter). * Thrust loads are another name for axial load.
Use a ball bearing if the weight on the advanced bearing will be light, and a roller bearing if the load will be heavy in its thrust load capacity.
A deep groove ball bearing or an angular contact ball bearing should be used for a mild combined load and a tapered roller bearing for a strong combined load when greater radial load capacity and axial loads are applied to the same converging bearing simultaneously.
You can combine two or more bearings or utilize a double-row bearing if a significant axial load is being applied in both directions.
5. How to properly care for your KOYO bearings to ensure optimal performance.
Here are two ways how to maintain and clean your KOYO bearing to ensure long-lasting performance:
1.Cleaning Process
Record the physical state of the bearing, including taking pictures, before demounting it for inspection.
After determining how much lubrication is still there and gathering some to test, cleaning should be done.
Two cleaning techniques, such as rough cleaning and finish cleaning, should be used to clean a soiled bearing.
It is advised that the bottom of cleaning containers be covered with a net.
Use brushes to remove grease and debris during rigorous cleaning. Bearings need to be handled with care. Keep in mind that if bearings are rotated in cleaning oil, extraneous objects may damage the raceway surfaces.
When cleaning is complete, gently clean the bearings by slowly rotating them in the cleaning oil.
To clean bearings, neutral water-free light oil or kerosene is typically used; however, a heated alkali solution may be required. In any event, filtering oil before cleaning is crucial for maintaining its cleanliness.
After cleaning, immediately apply anti-corrosion oil or rust-prevention grease to the bearings.

 
2.Inspection and Analysis
Before deciding that dismounted bearings will be reused, it is important to check the precision of their running and dimensioning, internal clearance, spherical fitting surface, raceways, rolling contact surfaces, cages, and seals to ensure that there are no anomalies.
It is preferred that choices on the reuse of bearings be made by knowledgeable individuals with sufficient bearing knowledge.
Reuse criteria vary depending on the effectiveness, significance, and frequency of the machines' inspections.
Replace the bearing with a new one if any of the following faults are discovered.

 
6. Some common problems with KOYO bearings and how to solve them
Here are the common problems with KOYO bearings and how to fix them:
          1.  Unusual noises
Inspectors must receive enough training because the ability to detect irregularities in bearings from noises requires a great deal of experience.
It is advised that specialized individuals be assigned to this work in order to develop this experience in light of this.
To detect bearing noise, housings might be equipped with listening rods or hearing aids.

 2.  Operating temperature changes
This method's application is restricted to generally stable operations since it makes use of changes in operating temperature.
Operating temperatures must be continuously recorded for detection.
Operating temperatures not only rise but also fluctuate erratically if bearing anomalies take place.
It is advised to use this procedure in conjunction with noise testing.

3. Lubricant abnormalities
When lubricants are checked, irregularities caused by foreign objects, such as dirt and metallic particles, are found.
For the inspection of big bearings and bearings that cannot be checked closely visually, this procedure is advised.
7. Comparison of other brands with KOYO bearings
SKF being on the top list has the largest bearing manufacturing production compared to KOYO which lands in fourth place when it comes to it.
When it comes to high-precision bearings, FAG and KOYO are both professional manufacturers of the most cutting-edge bearing products.
Koyo and Timken are quite equivalent in terms of the quality of the goods they create, and many people have questioned whether one brand is genuinely better than the other.
Similar to how NSK did, KOYO set up a network of sales representatives throughout Japan.
When it comes to harsh working environments, KOYO and NTN have bearing products that have performed at a low cost for the development of machinery for various purposes.
Same with the KOYO ball bearing units that are made with steel, TIMKEN bearings are also one of the world's best quality clean steel.
Compared to NACHI, KOYO bearing products also have the advantages of self-lubricating, high speed rotation, high load, good durability, low torque, and low noise and vibration.
8. FAQs about KOYO bearings
  Where can I find the nearest KOYO bearings distributor?
  Where is the bearings division of JTEKT's European headquarters located?
In Almere, Netherlands, under the name JTEKT Europe Bearings BV, the bearing business of JTEKT (Koyo) establishes its European headquarters.
  Why ought I to pick KOYO bearings?
Because our clients are the center of all we do at JTEKT, we are devoted to providing them with high-quality products and solutions.
We are able to provide a variety of cutting-edge bearings and solutions that are well-known under our KOYO brand name bearings by fusing technology with our design engineering skills.
In light of this, we also strongly believe in protecting the environment and society by creating and manufacturing eco-friendly, energy-efficient, and recyclable products.
9.Conclusion
The business has produced a wide variety of bearings during the course of its many years in business.
KOYO bearings are produced with the use of cutting-edge technologies to guarantee precise dimensions.
The brand concentrates on producing bearings for a variety of markets in addition to providing bearings for general machinery.